Windows 3.1 is one of the most popular graphical interfaces for DOS, but what is the right software for you?
Introduction:
Windows 3.x was the first Windows to gain significant development and commercial traction. Much of its success was spurred by the availability and success of Microsoft Office. Nowadays it has quite the cult following and there are still tweaks and driver improvements being made for it.
Being a graphical interface for DOS systems, Windows 3.1 offers a whole new range of software for your old DOS-based PC, so what are the best made for your uses? Lets investigate.
Here you can look at various software tested and shown in working order, what they offer and the things we came across along the way. Also note that this page may get updated along the way to add new things!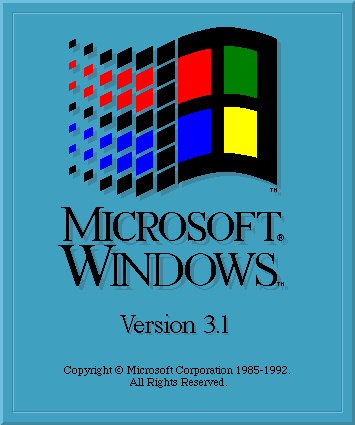 Table Of Contents:
Tip: These are links!
Software:
With any system comes entertainment, so what are the best options for media consuption, or even production?
AudioStation2 is one of my favorite software suites.
It combines many, many things on a single CD.
AudioStation2's POWERBAR as seen here is the glue of it all, you can open all modules at once or turn on and off the ones you want to use.
Now lets go over the entire suite and what it has to offer.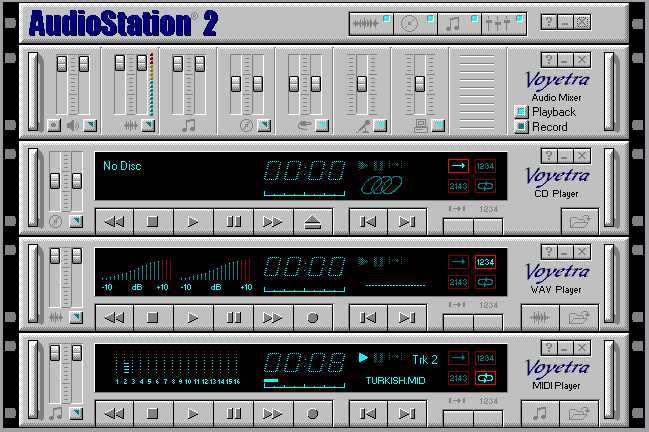 Setup: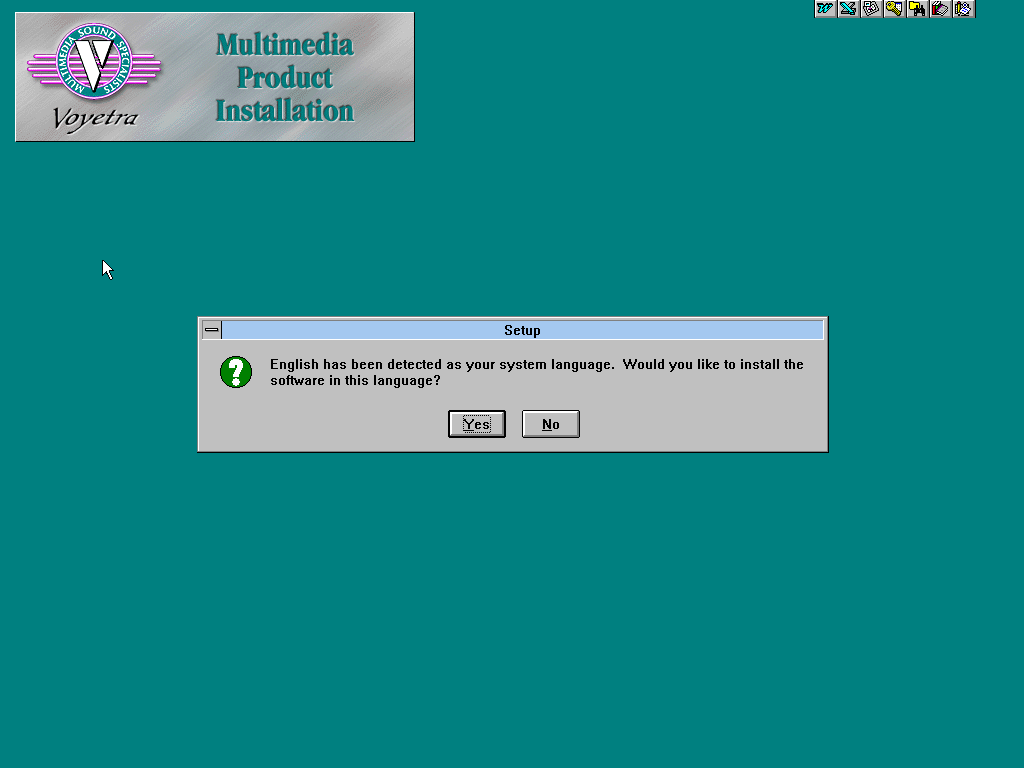 Seen above is the setup, which includes demo MIDI files and Adobe Acrobat Reader for its manual. The usual software we see still today.
MIDI Orchestrator:
MIDI Orchestrator used to be a seperate piece of software but version 2 has been included here.
Like CakeWalk Express it is a MIDI recording and 'orchestrating' tool for controlling tracks, volume and pan.
You can also in the main control center push the music note and get detailed controls over your playlists and other functions for the MIDI player module.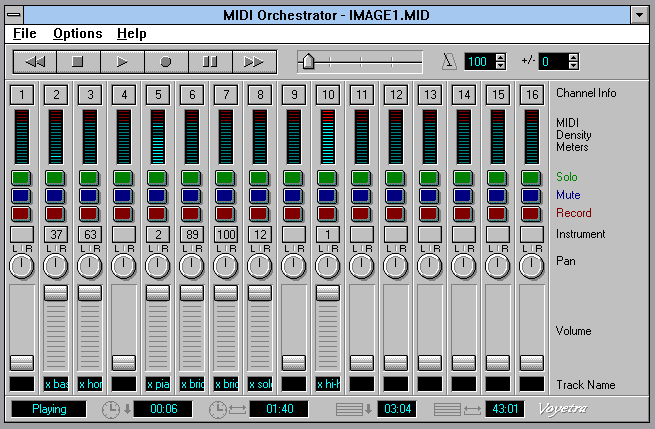 AudioView:
AudioView allows your to visually edit and stitch WAV files together.
AudioStation2 includes WAV files for demo which you can use to mess with or 'compose'.
It can also add various effects to your sound files among other transformations.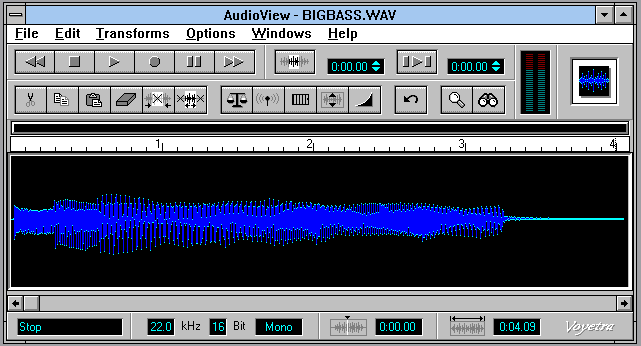 MediaCheck:
MediaCheck is a wizard that easily allows for media diagnostics for your PC.
Use the wizard to guide you through all tests or click on Advanced as seen below to get more information about your setup.
It tests WAV playback, MIDI Input for things like keyboards, MIDI Output for an external synthsizer and the internal synth of your sound card.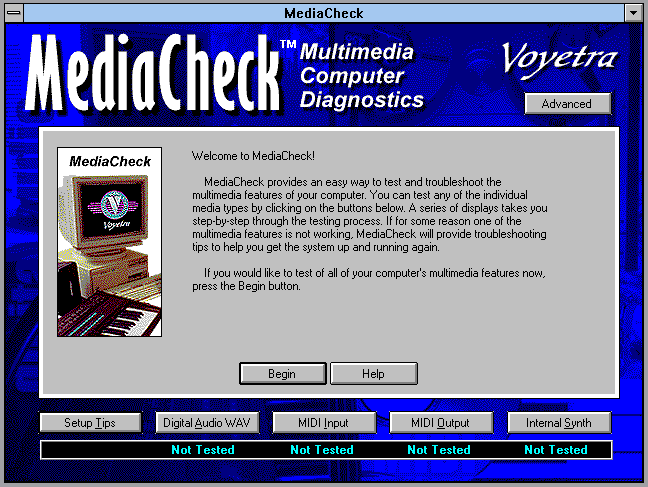 SoundCheck:
Furthermore SoundCheck is the more advanced version of MediaCheck.
This gives information like driver versions, what drivers are active and allows for more detailed testing of sound related devices.
Like MediaCheck this does give suggestions if a selected device is having problems.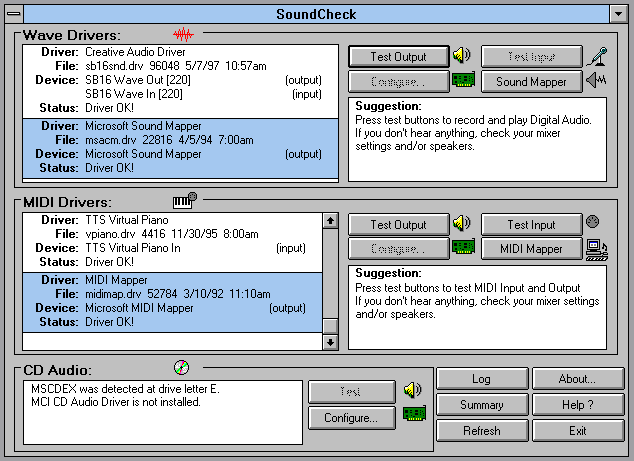 You can of course multitask all these programs or open a module on their own.
I highly recommend installing AudioStation2 on any rig with Windows 3.1 and a sound card due to the many features it can offer and of course diagnose. A must-have for any music enthusiast!
Cakewalk is a MIDI music writing and editing tool. One of the very best in fact!
Version 3.01 for Windows and later features a piano roll editor (Seen on the screenshot), support for limited music notation and much more.
Even for me, without any real musical talent and limited knowledge of such authoring tools was able to get basic melodies written easily with the Piano Roll feature. Shown is a MIDI rendition of Mario Kart Wii's menu theme.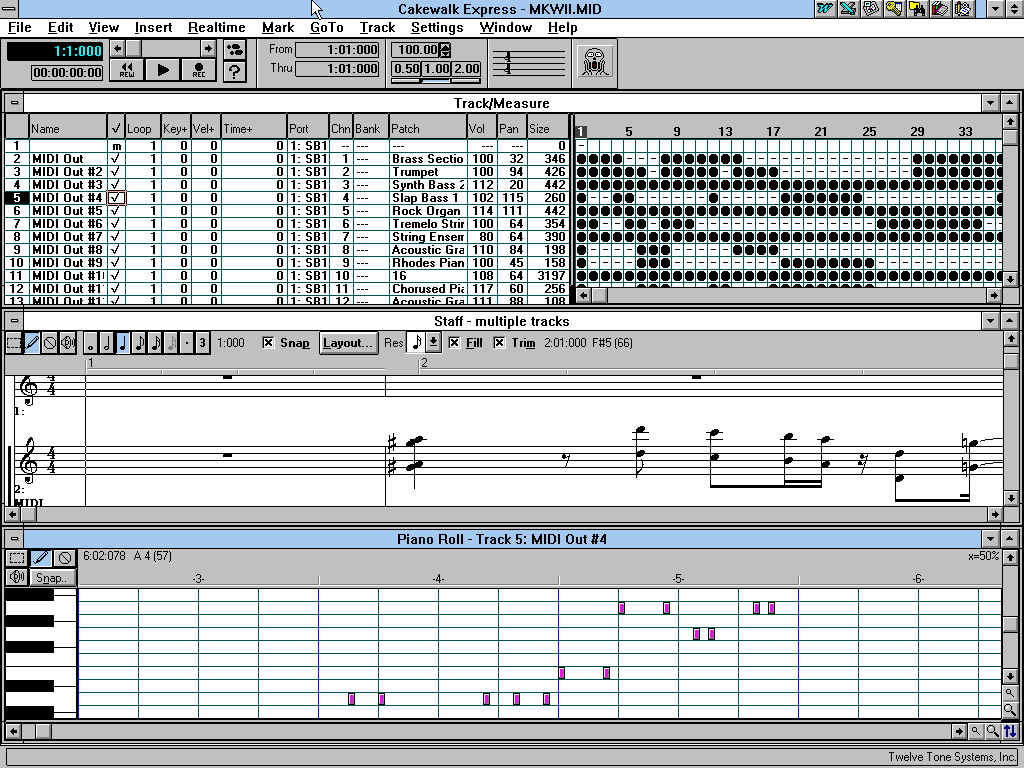 Shown here is Cakewalk 3.01a made by Twelve-Tone Systems, the CD version for Windows 3.1 and 95.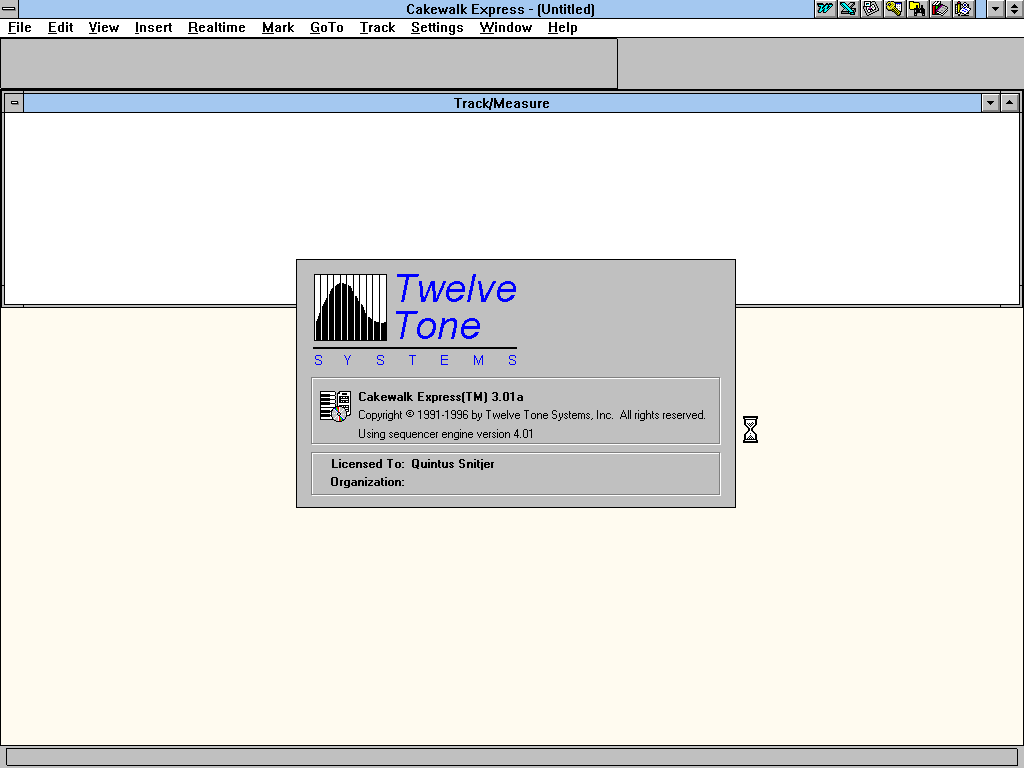 It offers easy recording, editing and writing of MIDI music. Dont have a keyboard? Use your mouse and the Piano Roll to play and assemble tunes right away, or use the Staff window for sheet style composing. There are many ways Cakewalk can help you produce your music! Or look at pretty things while messing with MIDI music.
Tracker music, where you choose your samples and compose MIDI style using effects and more.
MOD4WIN is a well known tracker music player, with support for many formats. Use it for casual listening or playback testing!

MOD4WIN is well known across Windows 3 enthusiasts, as it supports many different file types:
ImpulseTracker (IT), Fast Tracker 2 (XM), Oktalyzer (OKT), Scream Tracker 3 (S3M), MultiTracker (MTM), ProTracker (MOD), Unreal Music Format (UMX) and MO3.
The player can thus play the most common music tracks, offers a clean UI andclean sound output with to to 48Khz sound output.

Looking for an easy to use and featuire rich tracker music player for Windows? Go MOD4WIN!
Wiki: "WinPlay3 was the first real time MP3 Player for PCs running Windows both 16-bit (Windows 3.1) and 32-bit (Windows 95). Prior to this, audio compressed with MP3 had to be decompressed prior to listening. It was released by Fraunhofer IIS creators of the MP3 format, on September 9, 1995″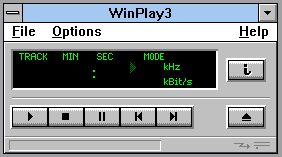 Prior to WinAmp, WinPlay3 was your only option for playing MP3 files like this, it does playlists and EQ, plus can even stream from your favorite radio station! Imagine listening to the BBC on Windows 3.1! Now

WinPlay3 requires at least a 486 processor at 66Mhz, faster is recommended. Regarless a very nice addon to your Windows 3.1 installation.
Xing is an MPEG player, meant for watching movies on VideoCD and CD-i Video.
It was often bundled with video cards back in the days of Windows 95 due to its abolity to be 'accelerated' with drivers that would leave the video processing to the video itself.
This effect in the days of Windows 3.1 was also possible but you would need to have a special card from any manufacturer that does the MPEG video decoding for you. These would then be bundled with their own software instead of offering an universal one.
Unless they bundled a DCI driver in which case YEY!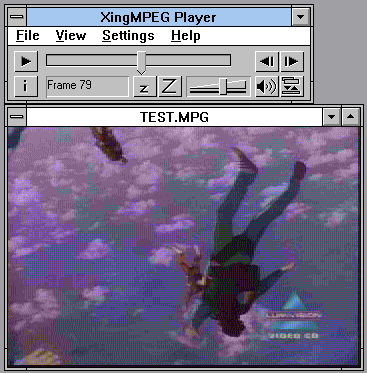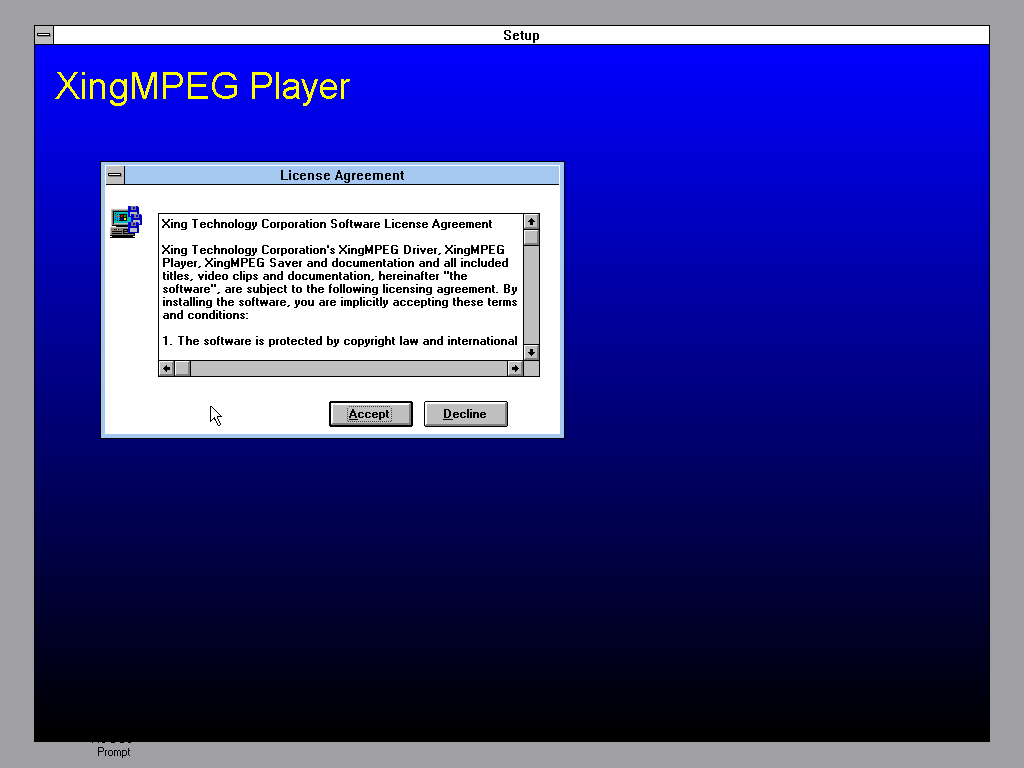 XingMPEG also fits on a single floppy disk, and does not need any further setup other then one things.
If your system can handle it, I recommend you set the audio to 44Khz instead of 11Khz. This can be found in Settings > Playback > MPEG Driver > 44Khz.
---
No System is alike, so compare and get insight in how fast your system really is!
WinTune 2.0:
Winbench is an allround benchmarking toolfor Windows 3.11, including processor, memory/ram, disk testing & scoring.
Compare your own systems to to the tested systems it bundles in the database and see how your rig compares to systems from back in the day!
Or get tips and tricks make your system faster right from the 'home' menu.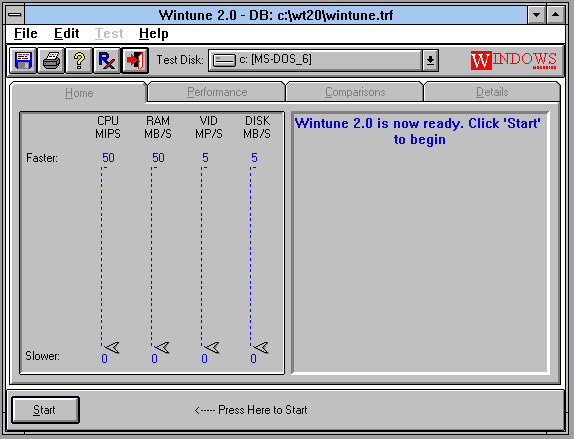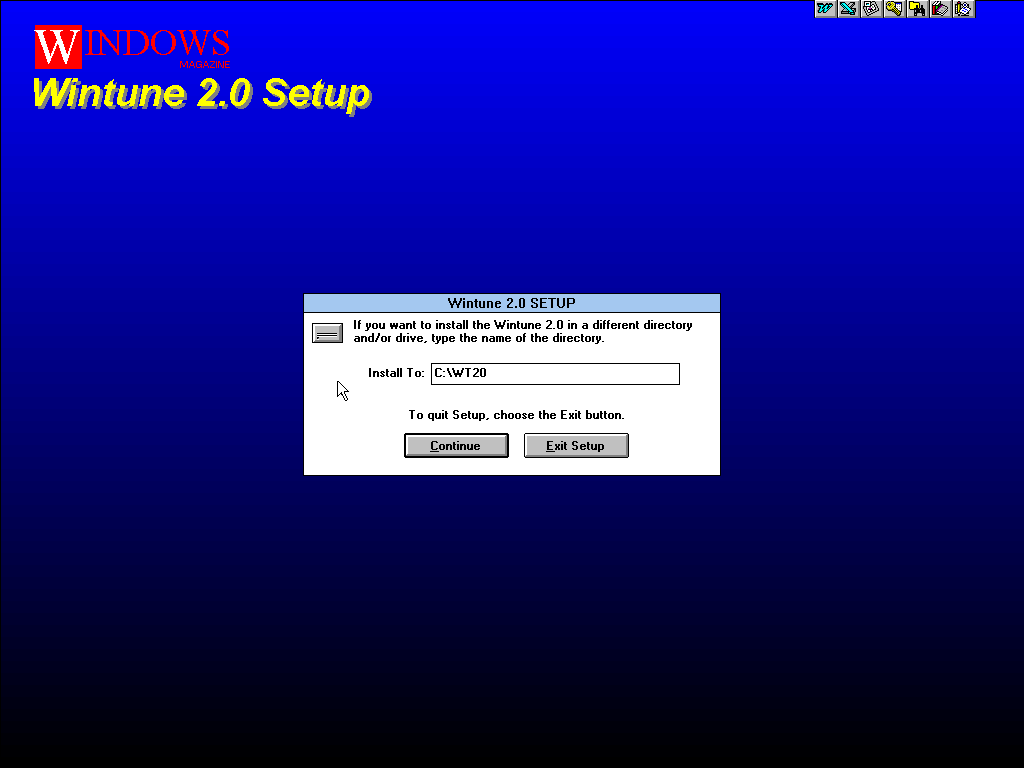 Details: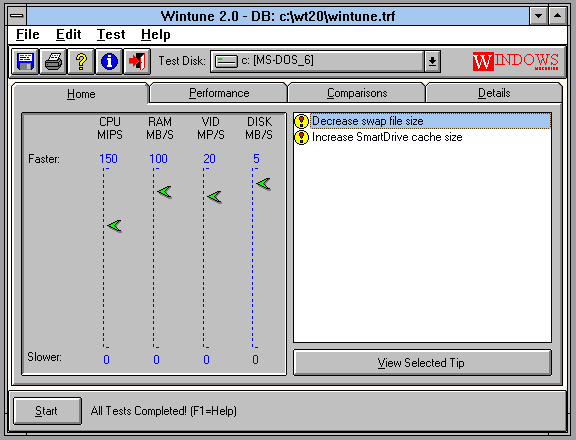 Notice the Pentium 120 has a video score but the faster CPU's dont. This is an example that faster is not always better.
Here the Video tests get completed so fast that WinTune seems to be unable to get a score for these systems.
WinTune also gives upgrade recommendations if a given score is way out of wack compared to the rest or way slower then it deems 'okay'.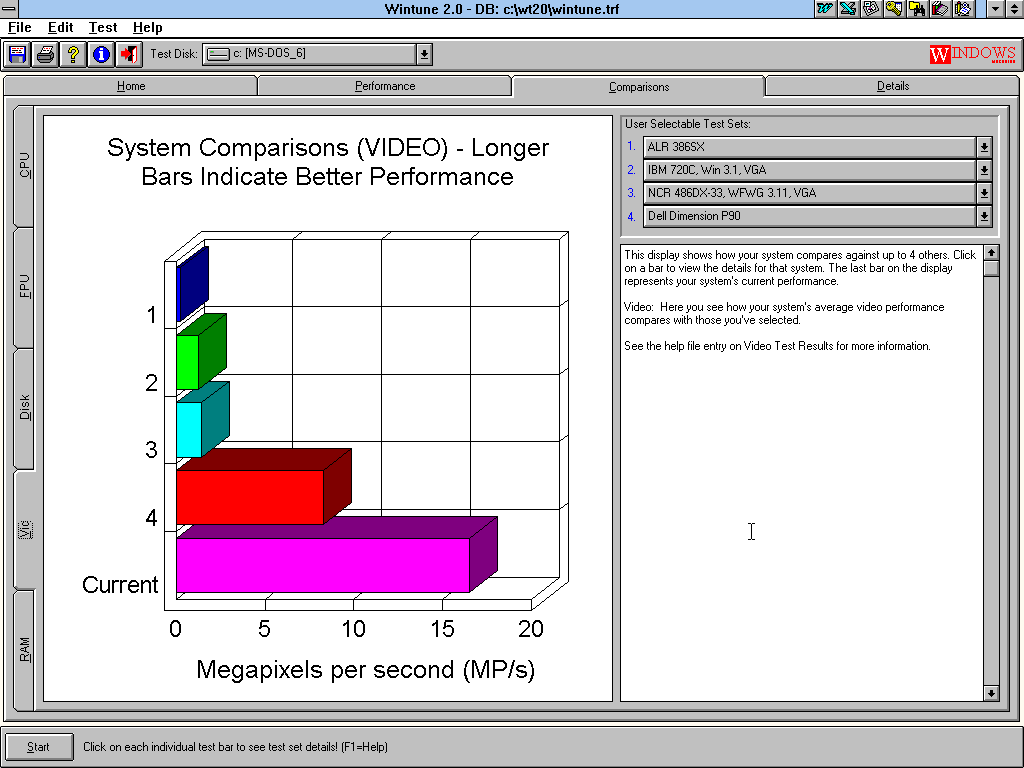 Left: Compare your systems to the pre-loaded results in the database, choose 4 systems of your liking and see how your system stacks up in the various tests!
Right: Or save the detailed information and compare that way. This can be handy if for instance lik shown before the video tests get so fast it will not register as a score.
WinTune 2.0 can certainly help with speeding up your systems or/and give helpful insight where you would want to upgrade.
---
There is no real reason why you should, but it's funny so why not?
Xitami is the web server software and FTP server from iMatix Corporation, version 2.4b4 from 1998.
As for its features, I will let it speak for itself.
Xitami is free, fast, and simply really good at its job. This is a professional web server that will run out of the box but lets you configure it every possible way. Many of the best ideas in Xitami came from the thousands of people who use it every day for their intranet and internet web sites. It won't crash when you start using it heavily, and it won't slow-down your system.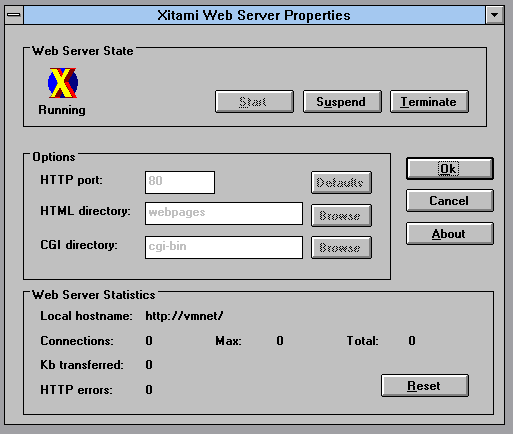 Setup goes as usual but is quite fancy! Look at those GRAPHICS.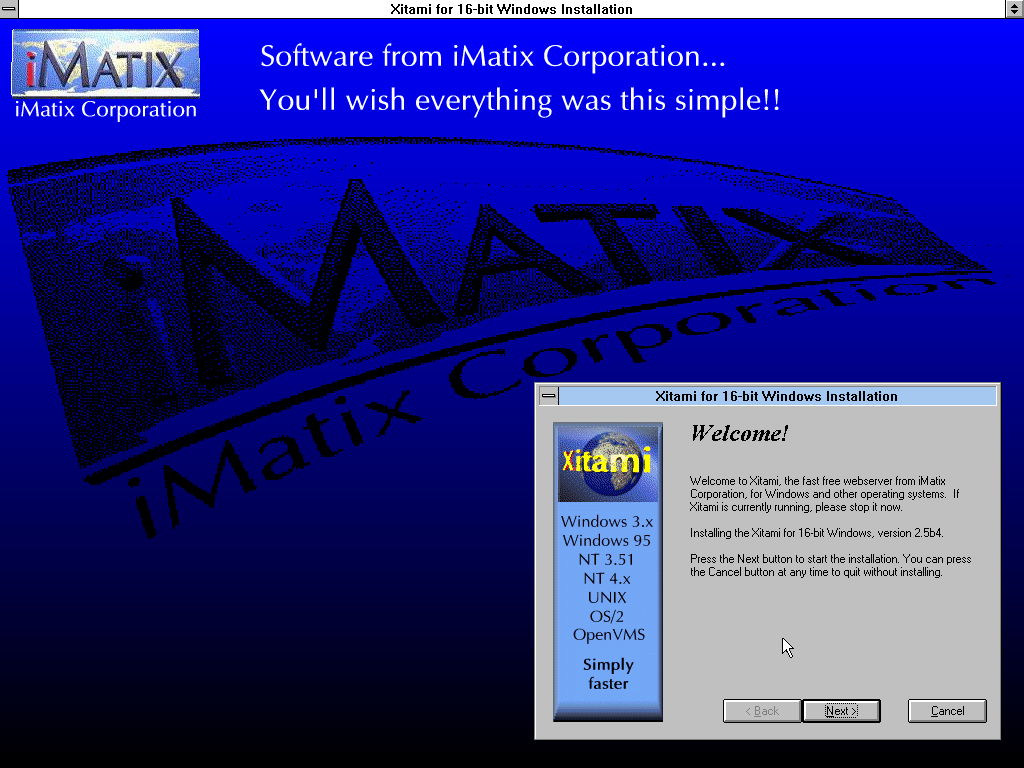 Now the thing I find the greatest of all is how they supply the manual.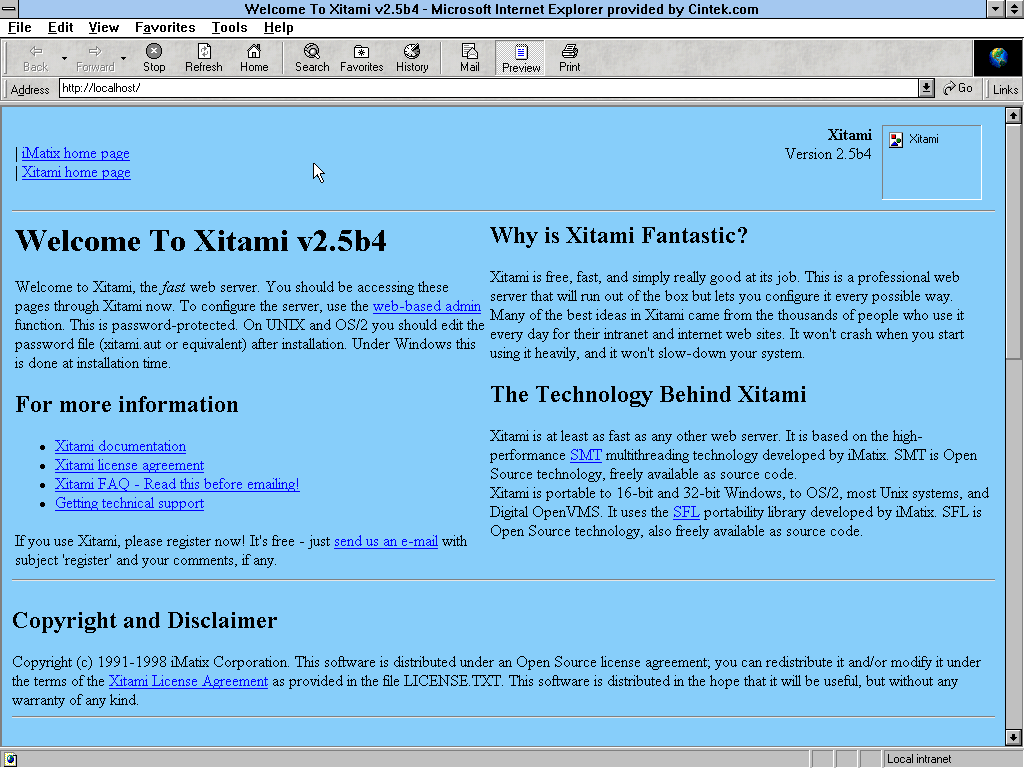 The full manual with who knows how many pages is actually supplied, as a web page! HTTP and FTP server, with its manual as a web page. Now that is good thinking!
That said, as can be seen from the first screenshot its quite simple to configure. Suspend it, change the point or the location of your web page and off you go. Could not really be any harder then that.
Now there is not much use for this nowadays of course as we all move to encryption, Xitami cannot do that at all. But come one, how many can say "Yeah bro, my website runs on Windows 3.1!"?
Not many I'm sure!
So if you want to for instance host a LAN party with old school systems and have a local network, why not have Xitami running too? Makes everything that much cooler. And yes, modern operating systems will browse it just fine!
---
As shown in Stretching compatibility: 1978 to 2021 and back productivity is still amazing on Windows 3.1 So here is/are my essential picks:
"Three top performance unite for box office smash", was the advertisement for Office for Windows.
Office 4.3 from 1994 includes Word, Excel, PowerPoint and Access all in one handy package.
Office has been the go-to productivity solution since 1990 and is still highly compatible in all kinds of ways.
Looking for an easy, all inclusive solution for your PC? Go Office 4.3!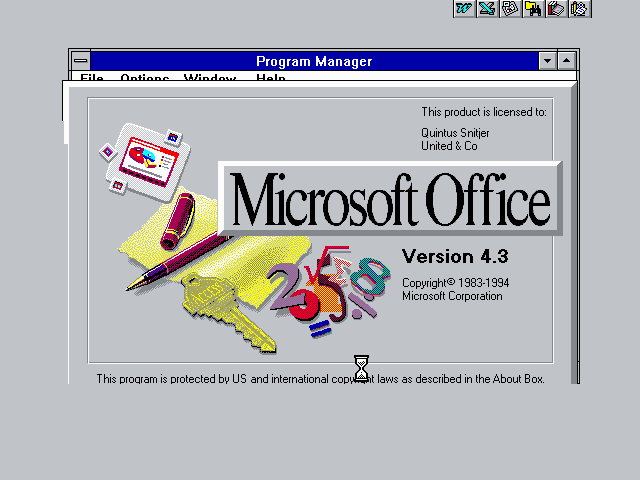 As shown in our previous testing on Stretching compatibility: 1978 to 2021 and back, Office 4.3 still remains highly compatible, even in 2021.
All the programs you would need to be productive and make files everyone can still use, Office 4.3 is your best bet. It includes all the popular Microsoft suites you are famliar with and more.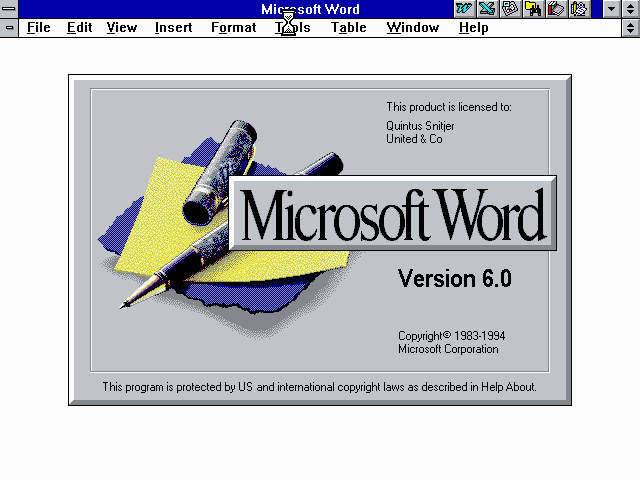 Of course being from 1994 and onwards it is not the fastest, especially if you are working with big documents but on any DOS machine it is highly recommended if you want to work on all systems possible.
As discussed in a previous blog post, using the SLK and RTF exports can get all the data you need to work on, anywhere you go.
---
Now, Internet browsing is of course NOT recommended to do on Windows 3.1 at all, BUT.
In case you want to check the limits, I recommend you run the WebOne proxy and connect to that with Widnows 3.1
This way you will not have to deal with HTTPS mess and encryption standards that dont work for us.
WebOne strips the HTTPS off off websites where possible and makes them HTTP-loadable. This was both used for Opera 3.62 and IE5.
For the best experience, I recommend you look at both browsers are see whats suits your needs better.
While Opera is less stable then Internet Explorer (with a proxy), it offers better support for encryption standard.
With that said, Opera 3.62 is regardless, the most modern browser you can run on Windows 3.11.
The installer fits on a single 1.44MB floppy disk which compared to IE5 makes installation much less of a hassle too.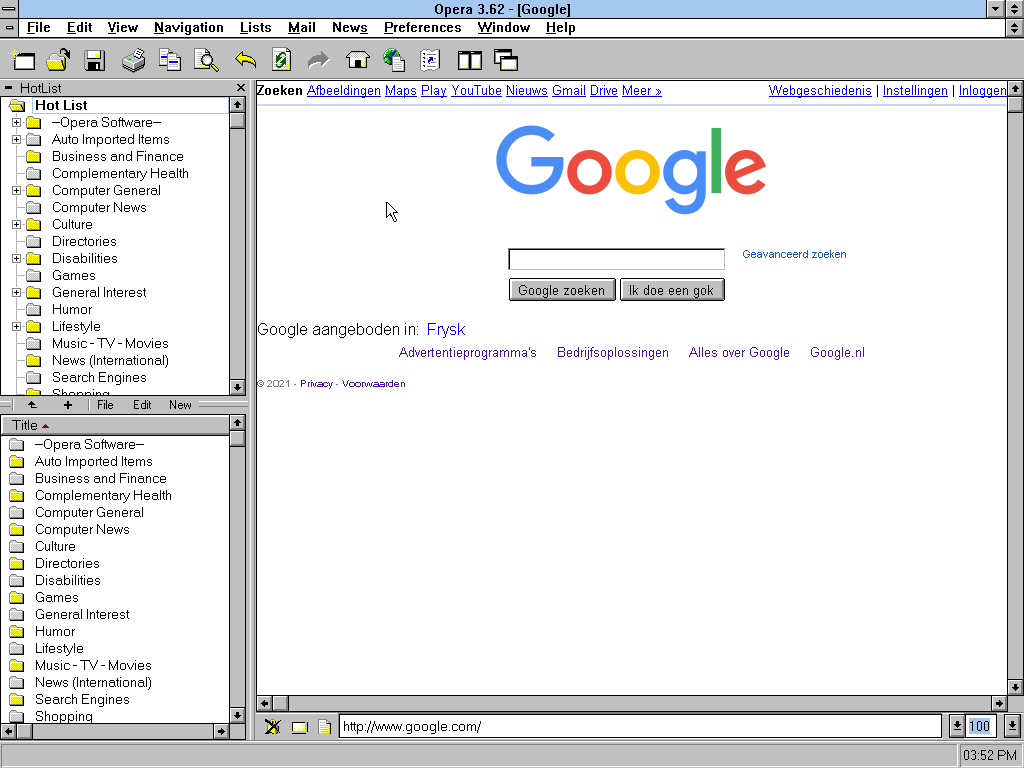 Setup is the usual, follow the wizard and done.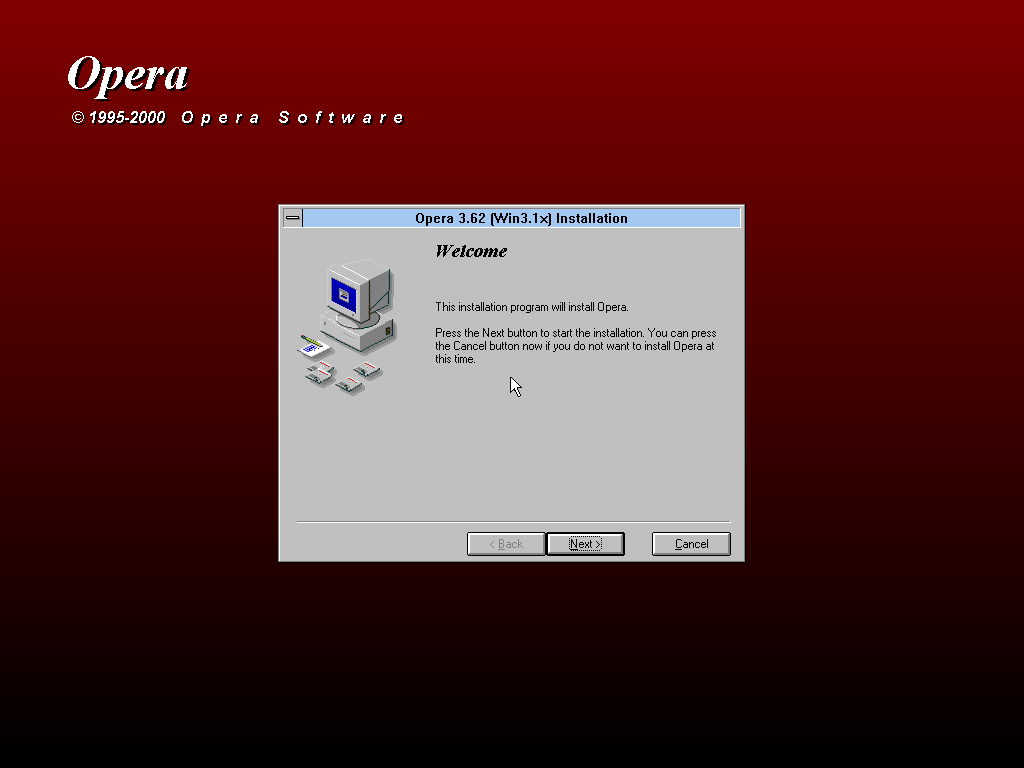 Opera is a commercial product so you will need to register if if you plan to keep it installed for longer then 30 days.
Name: OPERA Company
Serial: LxCGg76EPoG7a833a672b4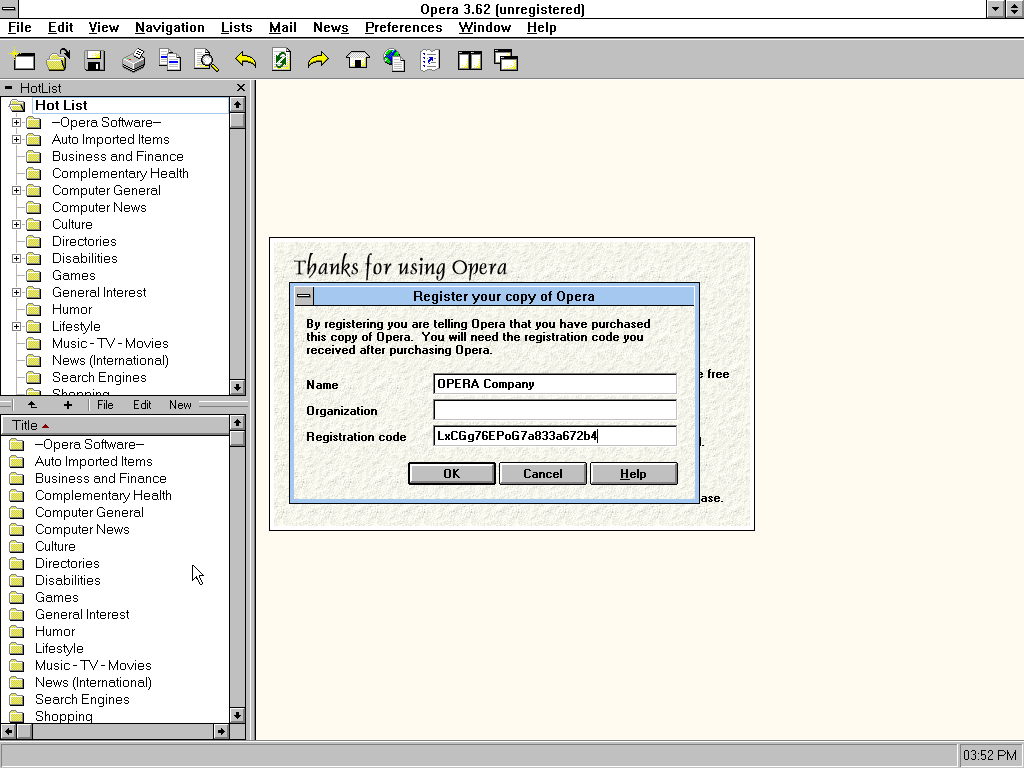 Now what do websites actually look like, you may ask. If they do not use much of CSS thats too modern they should look just fine: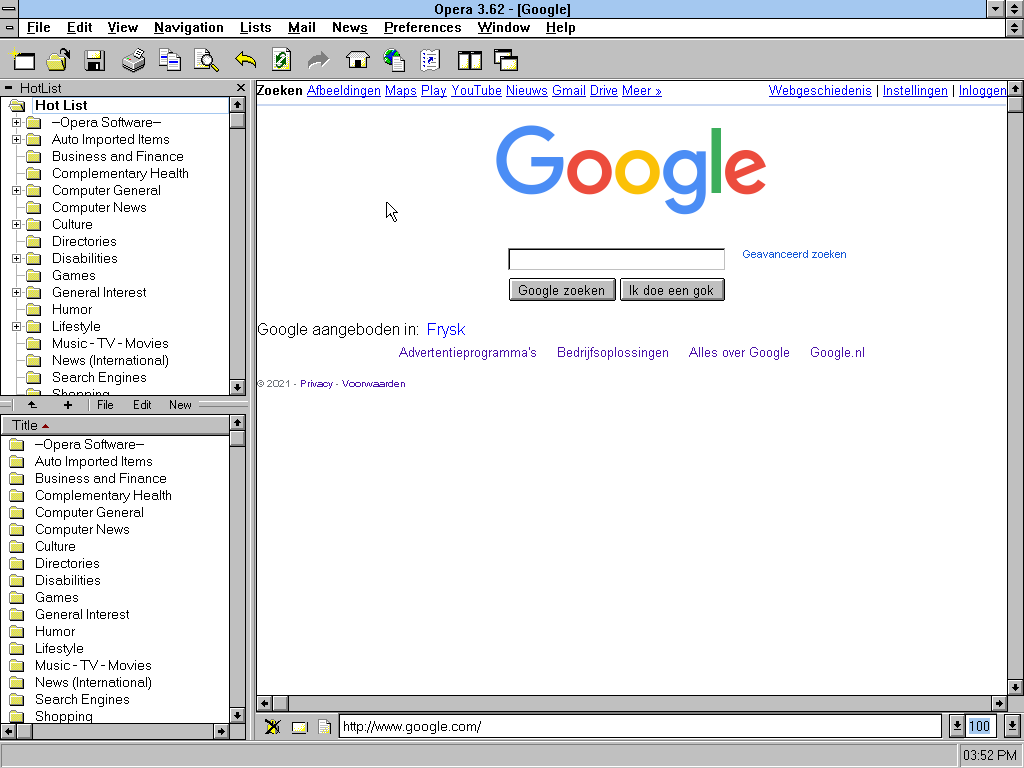 Here is a rundown:
Google loads just fine, it is kinda the de-facto test if a browser works or not. 🙂
Using FrogFind as showed in Arachne 1.97: The last graphical pure DOS web browser! blog posts will load as well.
Nintendo.com from the year 2000! Using TheOldNet.com you can easily re-live websites from back in the day.
Ups'n'Downs of Opera:
Opera has better HTTPS support out of the box but almost no site loads anymore.
Opera is by far the most unstable if the website eats too much RAM.
It has better CSS support for fancy websites.
But Opera does not support the APIs that Internet Explorer can read.
IE 5 was released with Windows 98 Second Edition and Windows 2000, as well as an upgrade for Windows 3.1, NT, and 95.
This was the last and most up-to-date Microsoft-supplied browser and e-mail clients for Windows 3.1. The package for Internet Explorer 5 also includes Outlook Express.
From 1999, it predates Opera 3.62 by just one year but does mostly the same things. Only their API support are different and interface.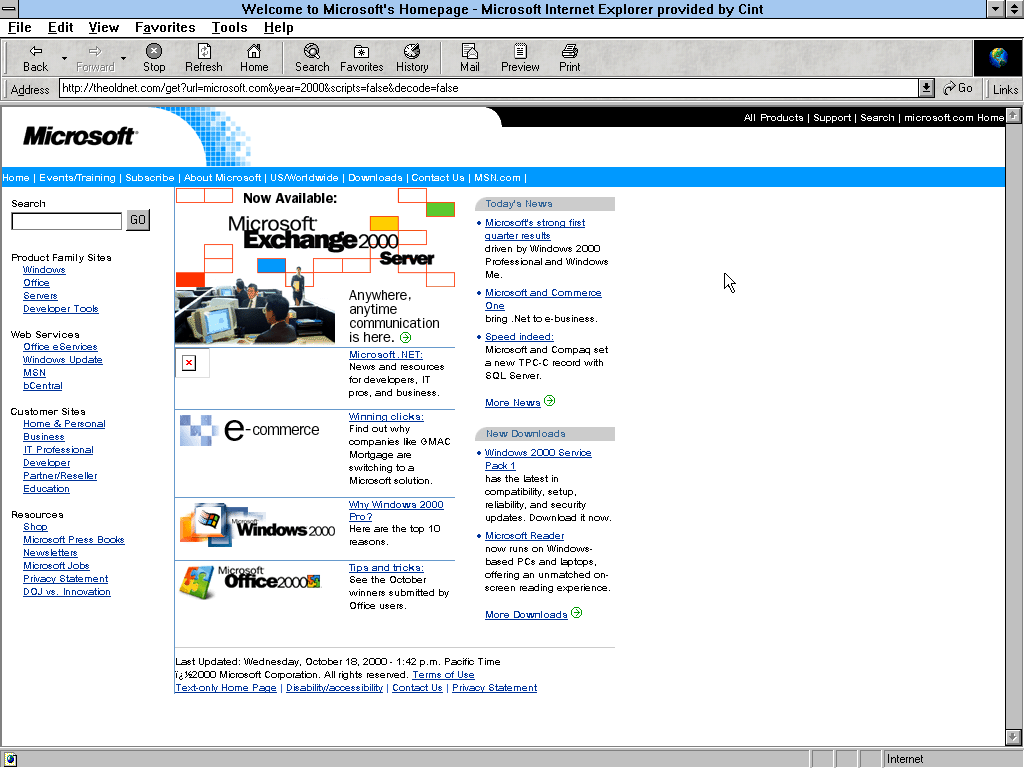 Setup:
Now setup is not actually as easy. I have found two things:
Unzipping the package and burning that to a CD can and will result in file not found errors.
Putting the file in an ISO and burning did not yield for great results either.
But that is on a virtual machine, so your mileage may vary.

Otherwise installation went smoothy, Outlook Express worked too but we will not be using that.
Browsing:
Websites mostly load just fine, but with messed up layouts. Here are three that stood out to me as to work the best: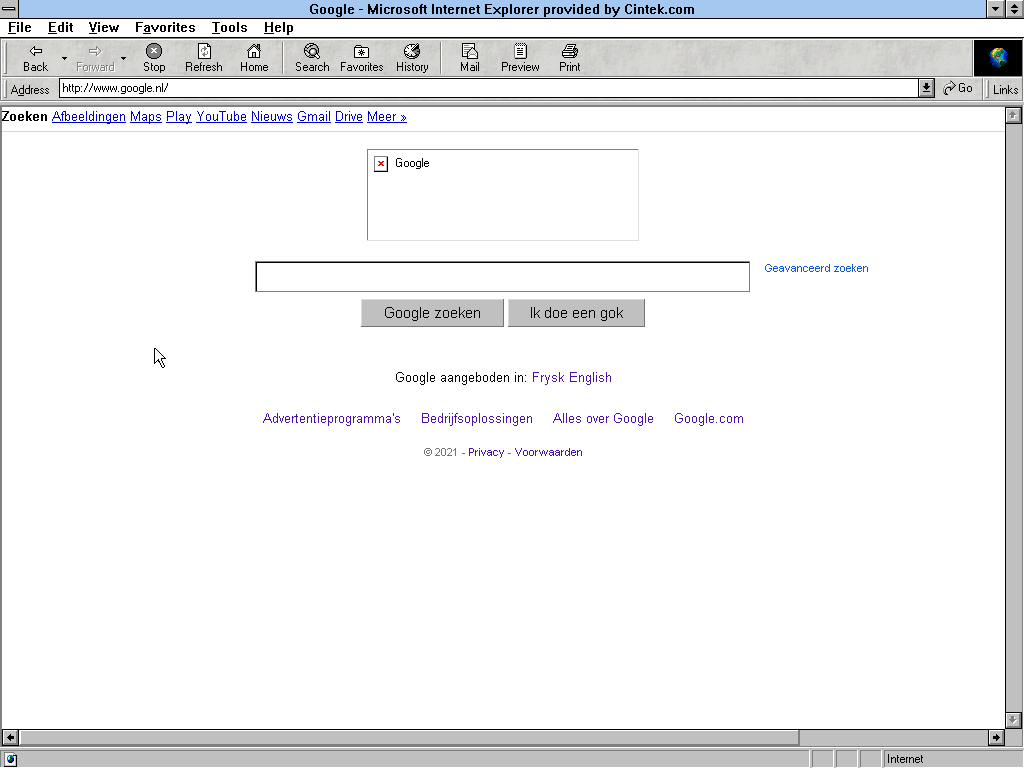 One warning you WILL see is "The script on this page is too large to run", which has to do with JavaScript. You can speed to browsing by disabling it but you can severely break sites by doing so.
Ups'n'Downs of Internet Explorer 5:
Internet Explorer needs more RAM to work well
Has better stability
Cannot do as many fancy CSS tags as Opera can
Page backgrounds may not work at all.
mIRC is an Internet Relay Chat client for 16-bit and 32-bit Windows with it's own unique scripting language.
Shown here is version 5.91, the last one compatible with Windows 3.1 and up.
IRC used to be a huge platform, with many companies hosting their own chat servers for use with IRC clients. Nowadays those biggest players are still mostly in the scene!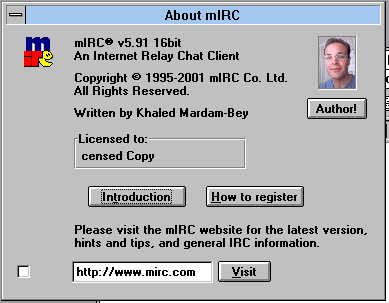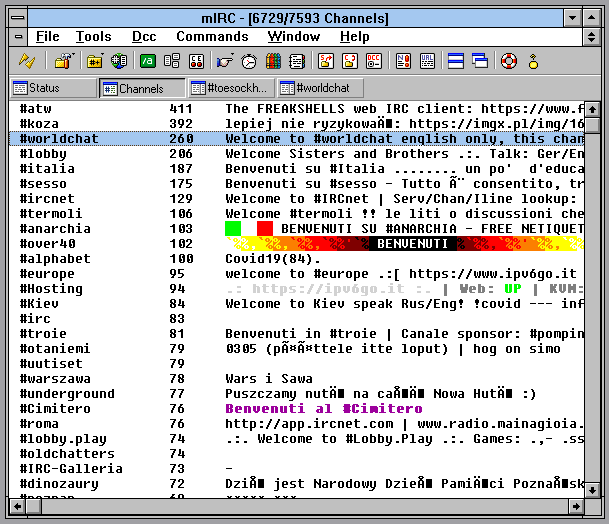 To add a server you go to File > Options > Add, enter name and address plus the Group. If you have multiple server addresses to add you can put them in the same Group. This way if one does not connect mIRC will cycle to the next address.
IRC is deemed a dead medium but in reality it is very livelely. Look around, there may be a server prefct for your interests to chat in!
Note: It is HIGHLY recommend to set up a compatible SOCKS5 proxy for use with these old IRC clients for safety.
WS_FTP, from Ipswitch, Inc., is one of the earliest shareware FTP clients, and was free for both personal and government use. It uses a classic "dual pane" user interface also known in Total Commander.
It supports many different servers and a wide range of systems to connect to.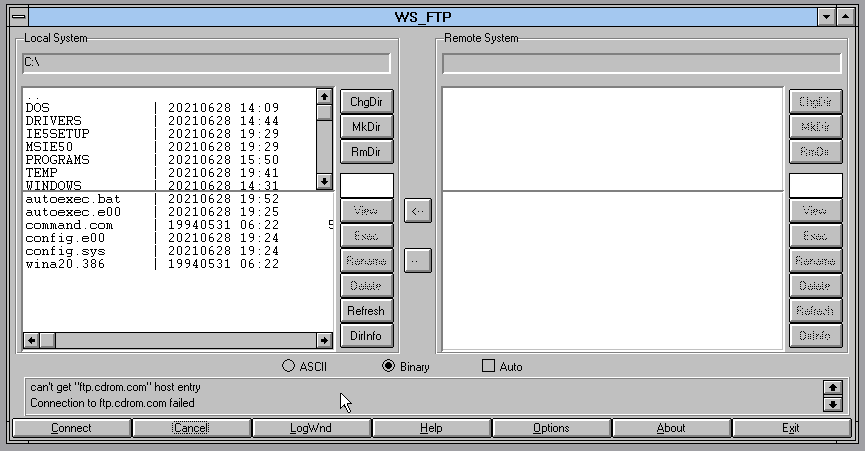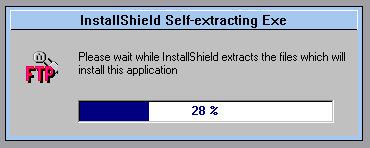 One thing is that all servers listed in all the supplied profiles have long since gone, but adding a new profile is easy as pie.
Furthermore in my testing my own Linux servers would not connect for some reason so I do not have screenshots on WS_FTP transferring data. Otherwise it is a fine, fine FTP client for Windows 3.1 and practically other then the supplied FTP client one of the only graphical clients.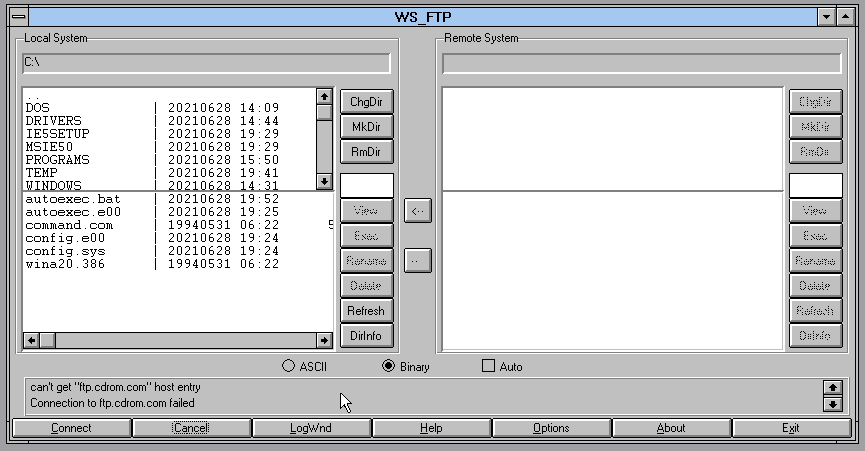 ---
And with entertainment comes, games! With Windows 3.1, most games were done purely in software. But that does not mean they can't be fun!
The Microsoft Entertainment pack was a collection of 16 bit games designed for Windows 3 for showing off that you can game on it while most games were still developed for DOS.
It includes games like:
Tetris
Minesweeper
FreeCell
SkiFree
Chips's Challenge
And much more!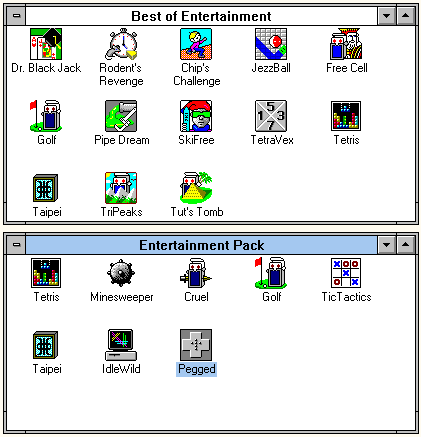 All games were developed Microsoft themselved to show the gaming ability of Windows at a time when most games were being produced strictly for DOS. The first release was in 1990 with the first pack, and the last 16 bit version released was The Best of Microsoft Entertainment Pack in 1995.
Tip: Click on the screenshots to vieuw them bettter!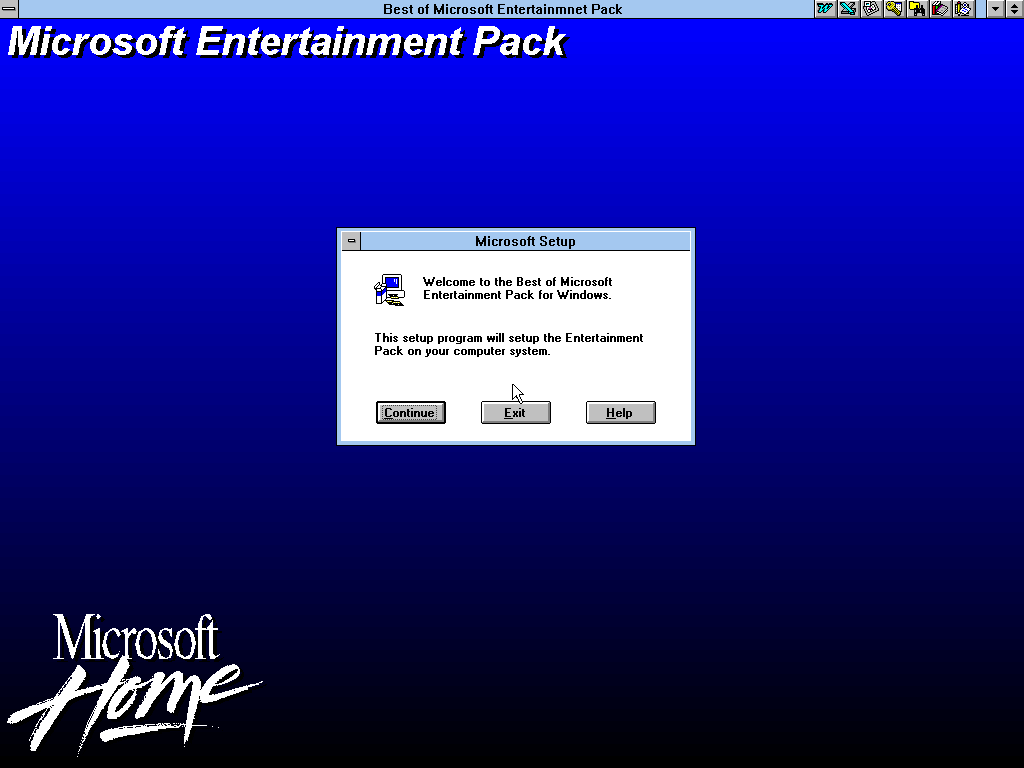 Said games work just like they do now, use the arrow keys most of the time or the mouse to interact with the games.
So need to kill some time? The Microsoft Entertainment Packs can help you out!
---
Microsoft Arcade is a pack of classic arcade video games ported to Microsoft Windows, meant to show off Windows 3.0 and 3.1 in its early days.
Asteroids
Battlezone
Centipede
Missile Command
Tempest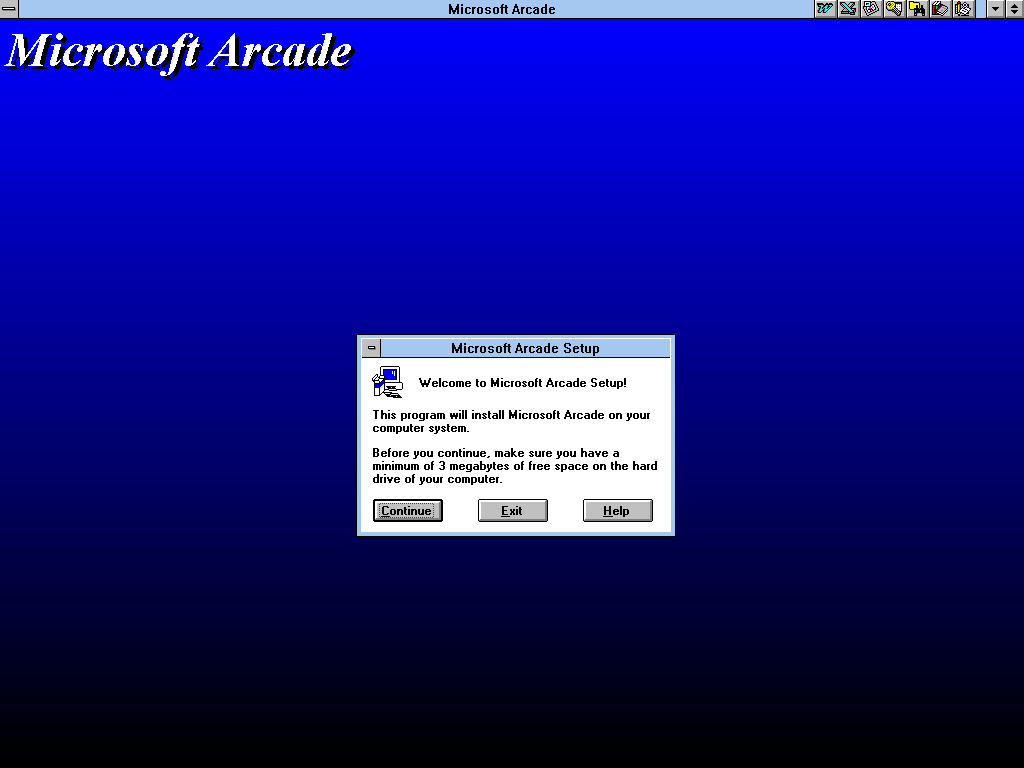 The games work as follows:
Asteroids: Use the arrow keys and spacebar to shoot at asteroids and keep away from danger.
Battlezone: Shoot tanks surrounding the battle zone and survive.
Centipede: Shoot at the centipede to destroy it piece by piece and avoid danger.
Missile Command: Shoot at incoming missles and save your ground stations.
Tempest: Use the mouse to move in a circle and destroy incoming items and ships.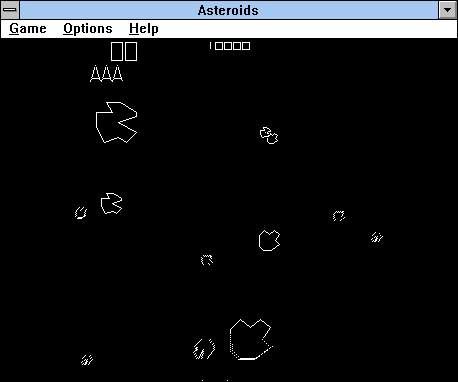 Microsoft Arcade will fit on a single floppy disk and provides simple arcade game ports. Simple but quite challenging the more you play!
---
The most used development language for Windows 3 would be Visual Basic 3!
Coming from the BASIC era moving to Visual Basic would be fairly easy as back in 2016 I had the same thing, a bit more modern but if you know the basics of how BASIC works, (haha) then Visual Basic would be not too hard to adopt to.
As for 3.0, it has fairly low memory usage and most software you probably would have run, was made with this!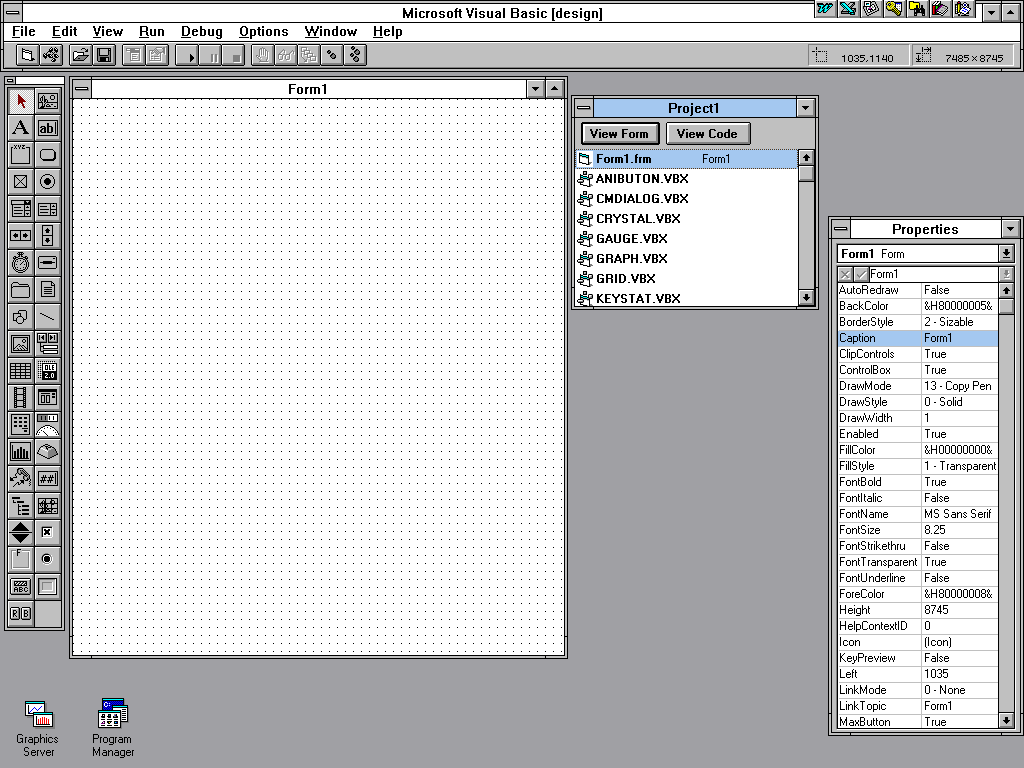 Now with that said.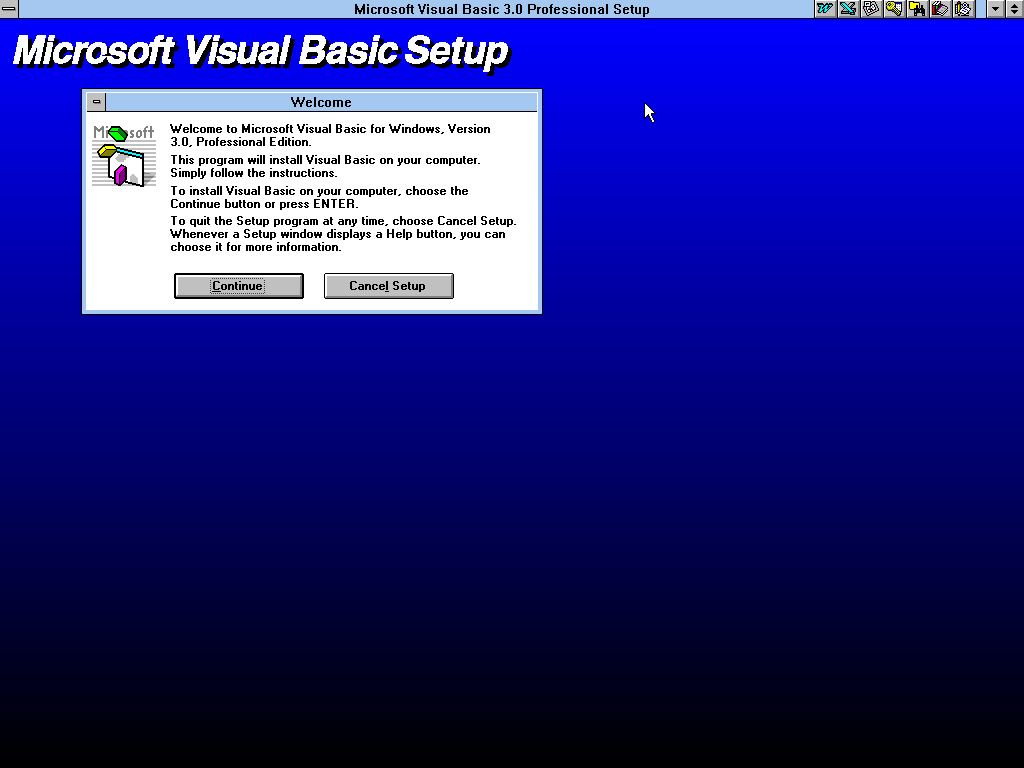 Setup is fairly simple, run setup as usual, insert the next disc when it wants you to and finish setup by using the wizard it gives you.
Interface Rundown: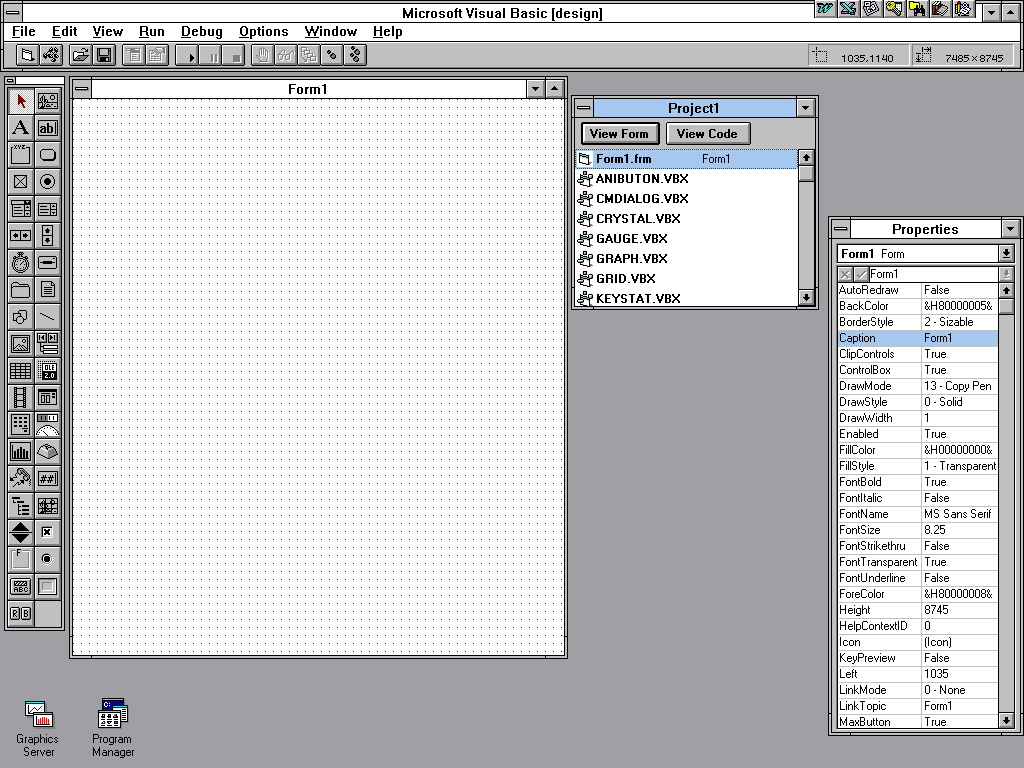 Now unlike Visual C++ I do know how Visual Basic works and still does, so lets take a look at this calculator sample:
Screenshot 1:
To the left, your toolbar. Use these icons to move buttons and more to your Form. Where the Form is the big empty space where you can design your interface.
Screenshot 2:
Now with the Calculator sample open, double-click on any button and that will show you what code is associated with that button. You can this way add a button, double click on it and start adding code to it immidiately.
Screenshot 3:
This is the same effect but with the equals button, it is a bith bigger but you should be able to read what it does in some sense. Read the input, what you want to do be it extraction or multiplication and so forth and use those input to combine and calculate.
Screenhot 4:
Here the Calculator is running, and you can thus see how the interface designed correlates to what you and the end-user will see with the finished product.
Design an UI via draggons buttons it, add code, and run. Simple, no?
Visual Basic 3 can do many things, so if you want to give Windows 3.1 software a try, you can install the development suite right on Windows 3.1 or for a bit better experience install on Windows 95 and go from there instead.
Note: Visual Basic 4.0 runs but uses a much more memory intensive runtime as is overall slower. It is not recommended to use this version unless required or you need newer features.
The 1.x releases are the only releases of Visual C++ that are capable of running on Windows 3.1, offering a full development environment with to my understanding a full completement of tools.
Well, personally I can only do Visual Basic which works way differently of course.
The most used way for C++ 1.5 is to run in on Windows 95, and compile for Windows 3.1. This gives much more freedom while coding.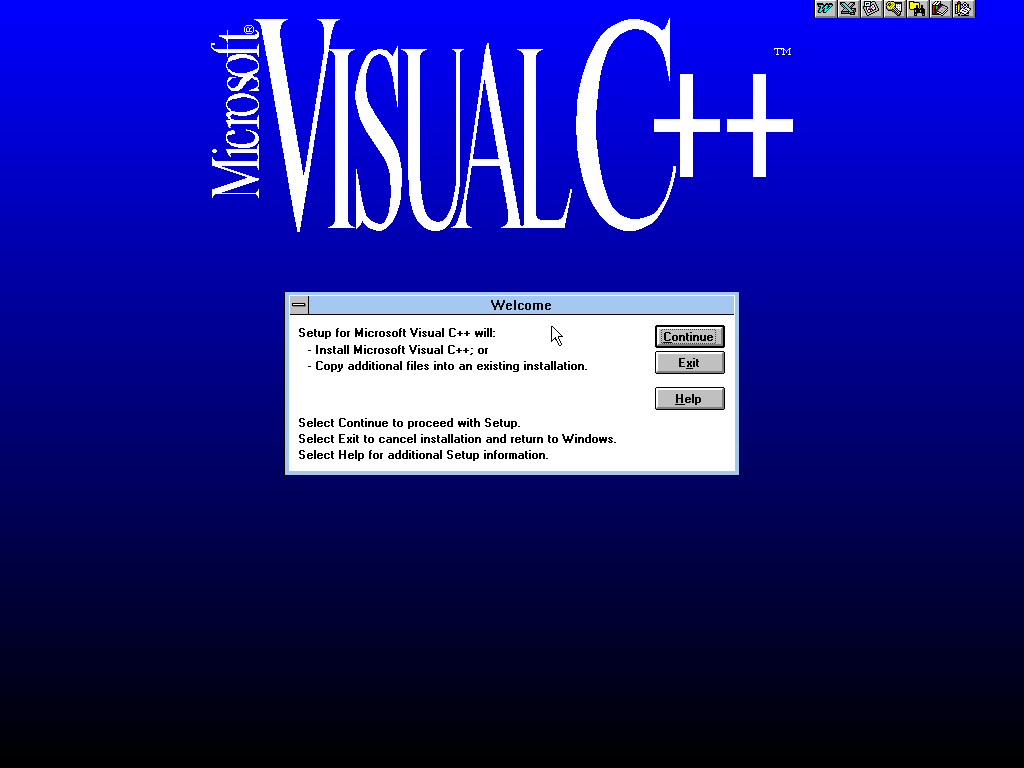 Setup did not go flawless, in the third screenshot many many errors happened while it was seemingly trying to run some demo programs. Or so it seems, ignoring the errors did not seem to break anything. Also, you may notice I ahd Office open, and this gave Visual C++ some programs with updating files, close Office before you install!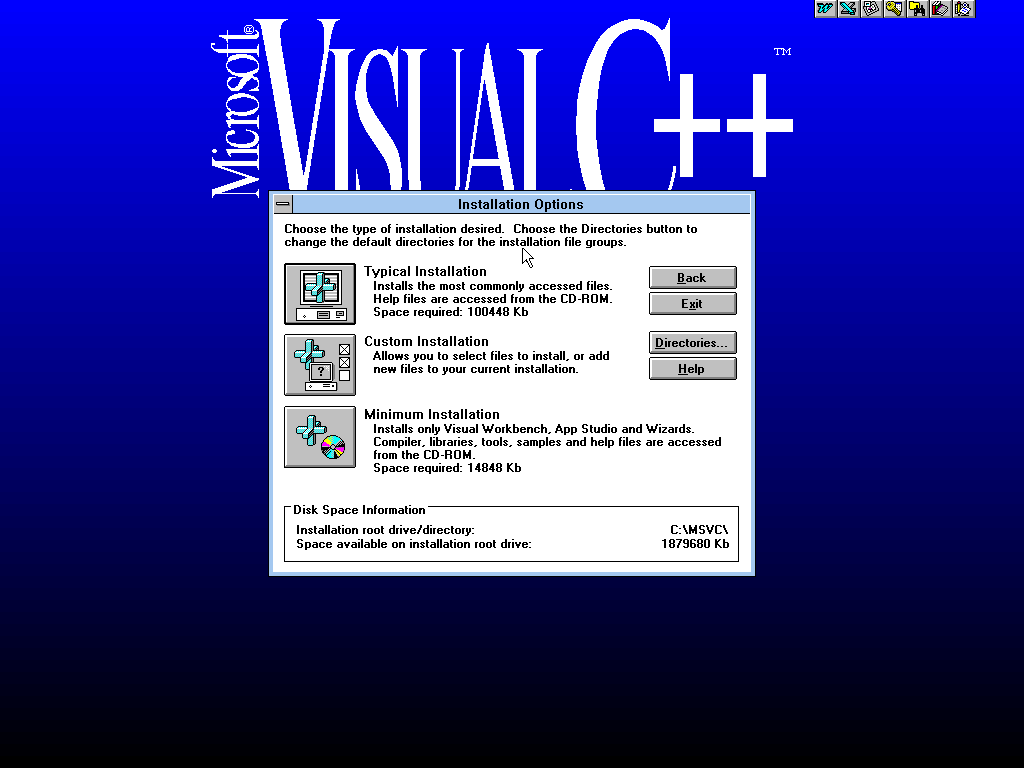 Otherwise you will find yourself with the usual development tools. Linkers, compilers, an development environment, module stuff and some demo programs you can mess with.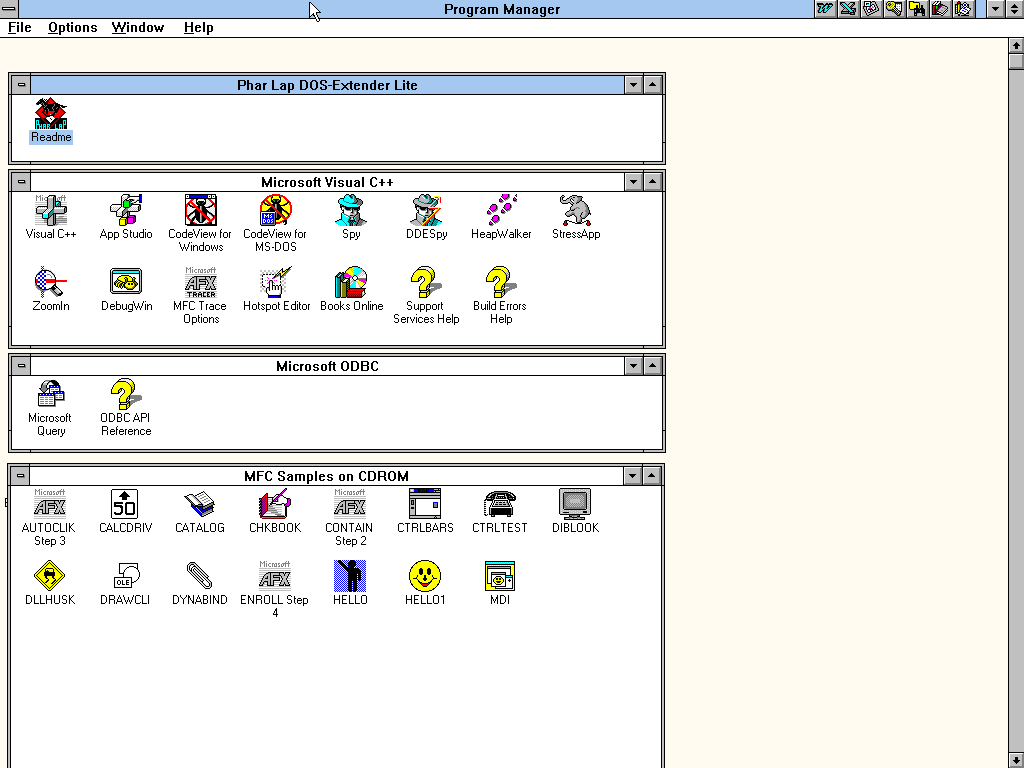 Note: I have no idea what I'm doing.