LEGO Loco is a classic train building game, introduced in 1998. One of its features, is TCP multiplayer over the internet.
Back then, fast internet and security weren't that much of a concern. If you wanted to play, all you had to do most of the time is enter the IP address (Internet Protocol) of your friend, and your two PC's would automatically connect to each other. Nowadays, this is a bit more challenging.
Ports:
Nowadays, you will need to open what are called ports. In your router there should be a section called "Port Forwarding" otherwise known as NAT. Network Address Translation. This allows devices from the outside to communicate with devices you point to in your house.
You will need to set this to allows Loco to communicate, as back then they were mostly just open.
To find how to do this, search for your routers model plus "port forwarding" on a search engine of your choosing.
Your externap address can be found here.

Loco uses the DirectPlay system which is an addon of DirectX. Because of this, the mentioned ports may also work with other games that use the same protocols. With this, the settings you will need / I used are as follows.
| | | | |
| --- | --- | --- | --- |
| Name | Protocols | External port | Internal port |
| DirectPlay-1 | TCP – UDP | 31415 | 31415 |
| DirectPlay-2 | TCP – UDP | 47624 | 47624 |
| DirectPlay-3 | TCP – UDP | 2801 | 2801 |
| DirectPlay-4 | TCP – UDP | 2300 – 2400 | 2300 – 2400 |
Name, Procols used, and ports are listed above. These you will need to enter into your router all. The IP you will need to enter is regarding the PC with the game. You can use "ipconfig" to find which address you are on.
Note: You can also use a LAN type VPN, to share PC to PC. An example of this would be Hamachi. For older systems, you can take a look at the PPTP protocol. Also a VPN type but natively supported in many operating systems.
Starting the game's multiplayer: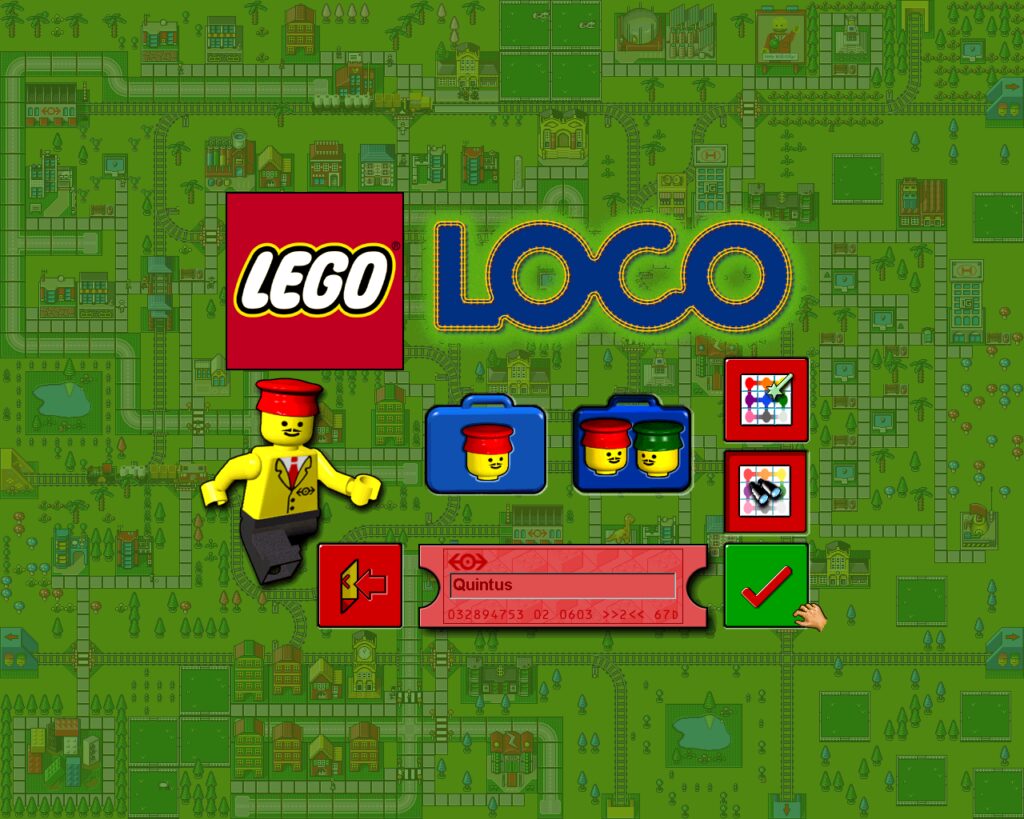 Above you can see the main menu, where the single LEGO head is single player, and two is multiplayer.
The magic wand icon is for creating a game, and the binoculars are for joining a game.
Within the 'magic wand' menu, you can select how you want the max of 9 players to be layed out. As every player gets his own little space, and you can send and recieve stuff to other players.
Joining a person's game: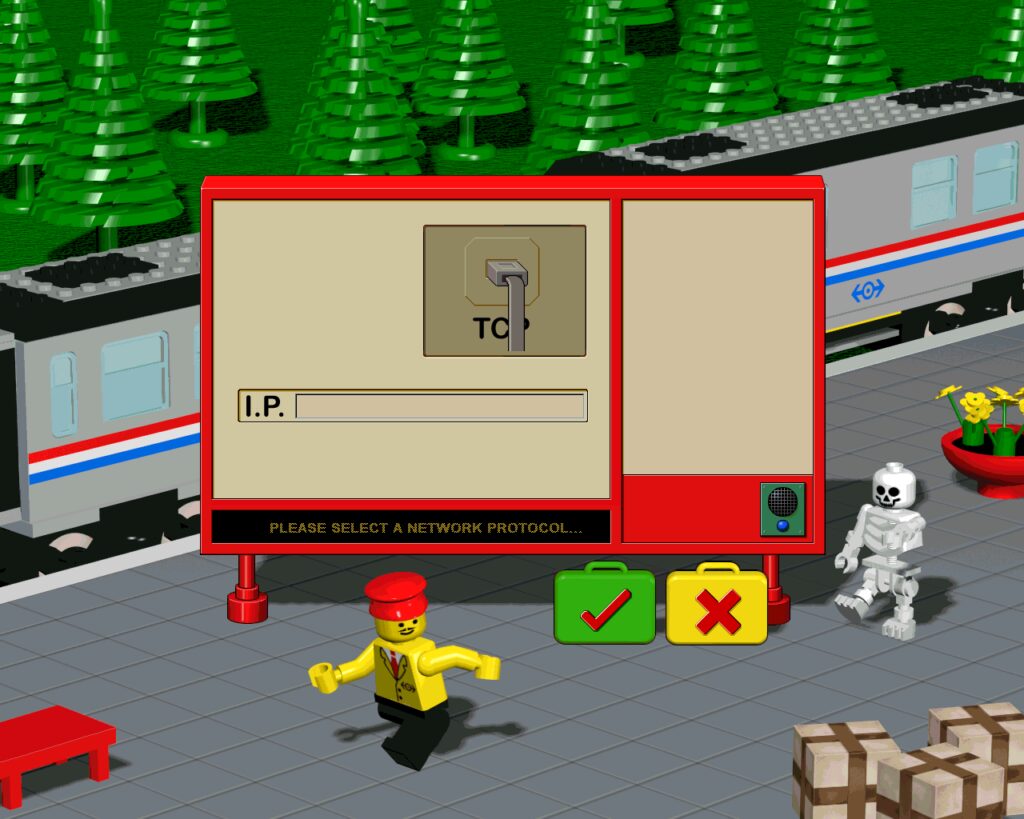 After starting the game via the 'magic wand' menu, the other players go to the menu with the binoculars. Here you will first be asked to choose a protocol. You can go for TCP. The IP address is the IP address of the player who chose how the worldas are layed out. You can use WTFIsMyIP.com for instance.
Note, all users must be port forwarded or the game will not know there are clients. In any case, enter the IP of the world 'starter', so to say and wait for it to detect.
If it does not detect, check the ports or wait a little longer.
The post system: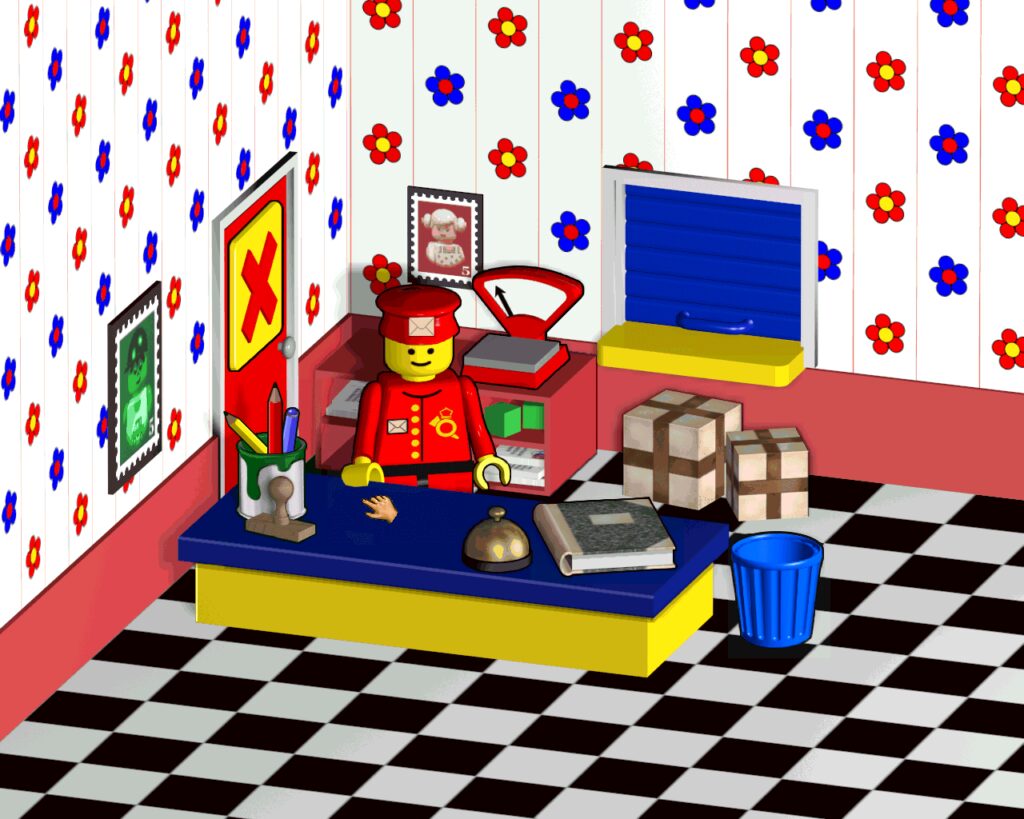 Post Office, main screen. Manage your letters and scrapbook.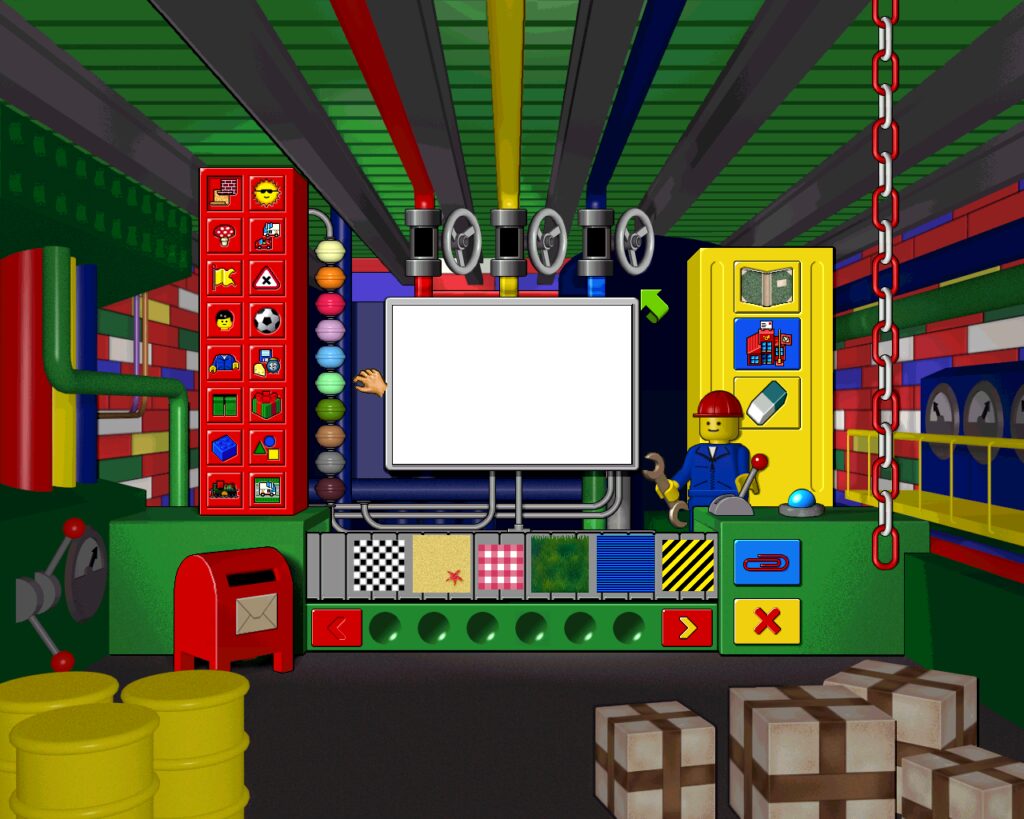 Here you can make your letters. Use stamps and colors to fill the paper.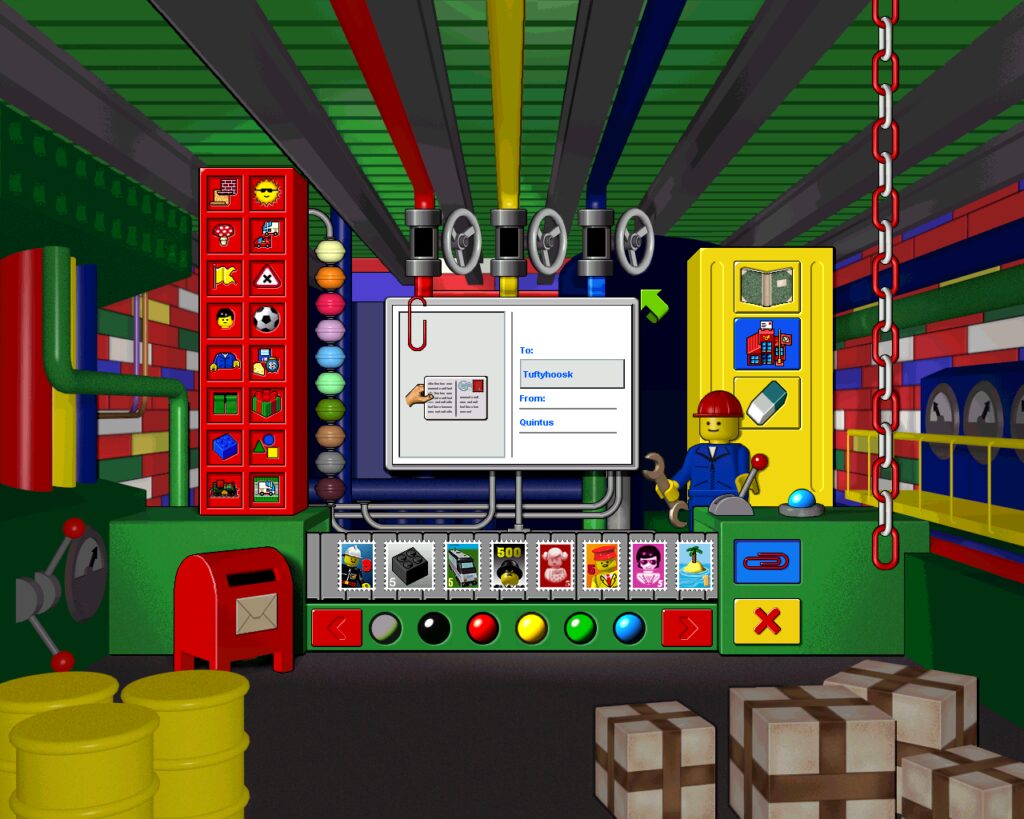 After making a letter, click the arrow on the top right and select your recipient.
On the first screenshot, (left tro right), you can greet the postman, manage your scrapbook and make a new letter with the paintbrush. Then, use stamps and text on the front and backside of the paper to make a letter! Then, select your recipient, attach a file with the paperclip if you want or add some text. After you're done, your pointer will change to hold the letter, and you can put it in the mailbox.
After a train passes by the post station and exits the world, it will be delivered to the corresponding recipient.
Tips and tricks:
That thereabouts concludes the multiplayer part, send trains and messages or files to other players and have fun building your own town!
LEGO Loco is DRM free, you can share it without any problems, and there is an alternative installer available which pathes some things and more. Download + Alternative Installer & More.
Conclusion:
LEGO Loco is for a lot still a lot of fun, and not just nostalgia. With multiplayer now working (as long as your router wants to cooperate), you can share the mess and redicolousness with your friends.
Not the easiest to set up, but sure worth the hassle once it does connect!
Hope you enjoyed this small how-to!
Note: LEGO Loco only works well on Windows XP or lower, test system was Windows 98 for both the server and clients.